2016 had its fair share of controversies thanks to Salman Khan, Arijit Singh, Pahlaj Nihalani, Fawad Khan. In fact, some of these controversies did not even make sense. Like the chronicles of censor board, courtesy Pahlaj Nihalani and some others more serious like the movie leaks (Udta Punjab) ahead of their release by a censor board insider. There was also a lot of personal drama that blew up into legal war with stars like Hrithik Roshan and Kangana Ranaut fighting and washing some real dirty linen in public. Here are the top seven controversies that troubled Bollywood this year…
# Ban on Pakistani artistes 
This has to be the biggest controversy of 2016. After the act of cowardice by terrorist attacking Uri, self proclaimed nationalists (read: MNS) issued an open threat to Karan Johar and an informal diktat to Bollywood filmmakers. All Pakistani artistes were to be banned from Indian films. In fact, Karan Johar was even asked to re-shoot scenes in hi film Ae Dil Hai Mushkil that featured Fawad Khan. Not just that, they went on to threaten the release of the said film and other films like Dear Zindagi and Raees, all of which starred a Pakistani talent. Later Karan Johar had to release a public apology for no mistake of his and had to succumb to their terms and conditions to get his film a smooth release. The result Fawad Khan's role in ADHM was brutally chopped.
# Censor Board's double standards
The more I say about them is less. Censor Board headed by Pahlaj Nihalani was at it againwhen it decided to stall the release of Shahid Kapoor, Alia Bhatt and Kareena Kapoor Khan starrer Udta Punjab. Not only did the CBFC give the film an A certificate, but the makers were asked to snip certain scenes that the board felt was inappropriate. Kudos to Anurag Kashyap who fought the long battle with the censor board and came out a winner. The issue didn't end there, when it looked like the film was finally going to have a smooth release, an uncensored copy of Udta Punjab was leaked on the internet. Pahlaj's team faced music for clearing Aditya Chopra's bold directorial venture Befikre with a UA certificate, considering it had plenty of kissing scenes and Ranveer Singh flashing his butt, which was otherwise too bold for our sanskaari board. Nihalani's team also was accused of double standards when they tagged Manoj Bajpai's Aligarh an  A rating coz it dealt with homosexuality and contained no 'objectionable' scenes as per censor board's 'standards'.
If the censor board's antics and their love for scissor was not enough, films like Udta Punjab, Sultan and Great Grand Masti were leaked online before their respective releases. In fact, it was Great Grand Masti, that was the biggest casualty of these leaks. The film was leaked fifteen days before its supposed release date and then had to be released a week in advance and had to fight Salman Khan's box office hurricane Sultan. The result a film that had managed Rs 100 crore at the box office with its previous installment earned a mere Rs 15 crore at the end of its short run. Apart from this a scene of Emraan Hasmi's Raaz Reboot too was leaked online.
# Arijit Singh vs Salman Khan
Arijit Singh created a controversy when he took to Facebook and posted an open letter addressing Salman Khan. The singer accused Salman of ousting his number from Sultan music album. He however deleted the post later but it was enough to send his as well as Bhai's fans a state of frenzy. You can view the singer's deleted post here…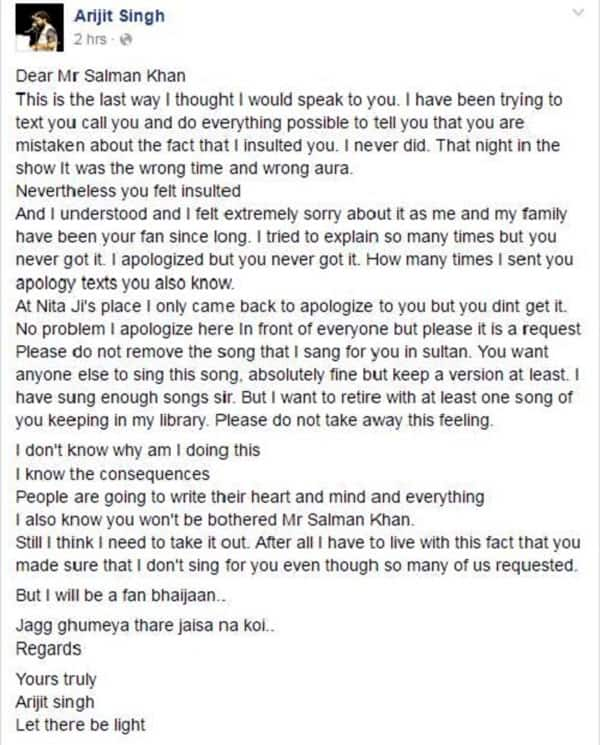 And for some reason he later posted this…

Salman Khan, as usual, didn't react to his claims at all. And the song went on to become a chart buster in the voice of Rahat Fateh Ali Khan. Salman did not even acknowledge Arijit when he was quizzed about the whole fiasco. We now hear that the two have buried the hatchet and Singh will finally sing for Salman in Tubelight. Neither of the parties have however confirmed this news.
# Ajay Devgn vs Karan Johar
When Ajay Devgn announced that he'd release his dream directorial project Shivaay on the Diwali 2016 weekend he had no competition. His was to be a solo release, until Karan Johar came along with his directorial venture Ae Dil Hai Mushkil and that kick-started one of the ugliest wars in the history of India cinema. Kamaal R Khan's voice recording revealing that Karan Johar had paid the self-proclaimed critic Rs 25 lakh to badmouth Shivaay went viral. Obviously this literally broke the stressed bond that Karan shared with Ajay's actress wife Kajol.
# Uproar on Kareena-Saif naming their baby Taimur Ali Khan
And now the award for the most senseless and useless controversy goes this one. So Kareena Kapoor Khan and Saif Ali Khan named their baby boy Taimur Ali Khan Pataudi. Social media went berserk and baby Taimur became the hot topic of discussion. The reason, Saifeena's baby name reminded a lot of people of Timur Langda, who was a dictator and in 1398 had massacred millions of south Asians including Indians. Just on that basis trolls started passing insensitive comments and many even crossed the limits of insensitivity and hoped for the infant to die. While Saif Kareena decided to nub the whole episode, Bebo's uncle Rishi Kapoor gave some of his followers who were losing their shit over baby Taimur's name some befitting replies.
# Raees vs Kaabil
This controversy will spill over to the next year too. When Shah Rukh Khan announced the release date of his much delayed and much awaited Raees for a January 25, 2017 release. The makers of Kaabil weren't too pleased as they were the first to book this date. Rakesh Roshan went to call this move unethical and exclusively revealed to BollywoodLife, "Actually it is not right. Because if you see Hollywood also, the way they strategise, no two big films release together if you go back 10 years and see. You will never see Superman and Batman releasing together. And we have only 4-5 actors over here who are ruling the industry. There are so many weeks in the entire year, so why clash? By clashing you are eating into each other's business." When talking about the affect it will have on both the films, Sr Roshan said, "Even a blind man can see that. I have not encroached into anybody's date. It is for them to take a decision. They must have something good up their sleeves so they are confident. Everybody is confident about their films, that is fine. But how much are you confident about your film? I think this eating into each other's business is not right. It is going to harm both of us."
And when we heard that SRK and Roshans had called a truce, the news of one-upmanship again made headlines with both the film's planning to release their movie earlier than the other.
# Kangana – Hrithik's Ajab Prem Ki Ghazab Kahani
While it's still not known whether Hrithik Roshan and Kangana Ranaut were in a relationship or not, the two actors have taken a legal route. So Kangana referred to someone as her "ex" and we hear that Hrithik decided to file a defamation suit against the actress. Matters got worse when the two parties started leaking intimate details about their personal chats and emails exchanged. While Roshan Jr claims he wasn't involved at any point in time with the Queen actress and insists that it is an impostor, Kangana claims otherwise. The matter is still in the courts even as the buzz around one of the most murkiest affair has died down.