Lal Shahbaz Qalandar Shrine Attack Prompts Pakistan Security Crackdown Pakistan says dozens of militants have been killed in a security crackdown following Thursday's attack on a shrine that left at least 72 people dead.
Some 18 militants were killed in southern Sindh province, where the Sufi shrine is located, and another 13 in the north-west, officials said.
A suicide bomber blew himself up among devotees at the Sufi shrine in the town of Sehwan.
So-called Islamic State said it had carried out the attack.
It was the latest in a string of bombings by the jihadist group.
Will Pakistan ever stamp out extremism?
Pakistan's Sufis under attack from Islamic hard-liners
What is Sufism?
Funeral for victims are taking place on Friday and the Sindh provincial government has announced three days of mourning.
Afghans summoned
Prime Minister Nawaz Sharif condemned the attack and immediately vowed to track down those behind it.
Pakistan's army chief, Gen Qamar Javed Bajwa, said in a statement: "Each drop of the nation's blood shall be avenged, and avenged immediately. No more restraint for anyone."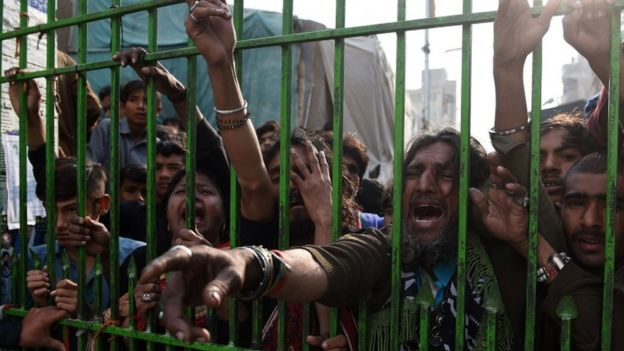 The paramilitary Rangers said they had targeted militants overnight in Sindh, while police said further raids were carried out in Khyber Pakhtunkhwa in the north-west.
A government official said that scores of suspects had also been arrested.
Pakistan has also blocked routes to the Afghan border.
Correspondents say that the crackdown is a regular response carried out by the government following a major militant attack.
The government also summoned officials from the Afghan embassy, protesting that Afghan soil was being used as a base for militants to carry out attacks in Pakistan.
Pakistani officials reportedly handed over a list containing the names of 76 "most wanted terrorists", insisting that Afghanistan take immediate action against them.
Devotees continued to flock to the shrine of Sufi saint Lal Shahbaz Qalandar in Sehwan on Friday.
The mood was defiant, with the customary naqqara (drum beating) taking place at daybreak as usual, and worshippers vowing to hold their routine dhamal (sacred dance) in the evening.
There were also angry scenes, with some worshippers complaining to police that they had not provided enough security.
Anwer Ali, 25, told Reuters: "There were threats to the shrine. The Taliban had warned that they will attack here, but the authorities didn't take it seriously."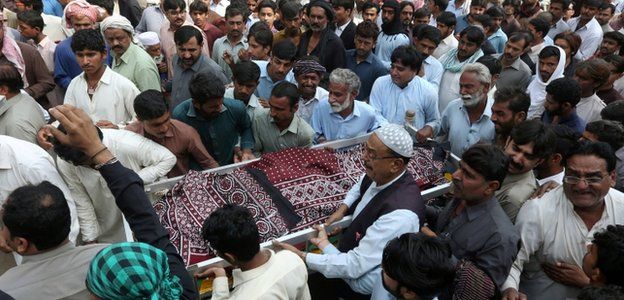 Return of violence: M Ilyas Khan in Islamabad
After a couple of years of diminishing violence credited to a military operation that kicked off in June 2014, the militants appear to have returned with a vengeance.
In six back-to-back attacks since Sunday, suicide bombers have killed nearly 100 people.
The latest surge comes amid reports of the reunification of some powerful factions of the Pakistani Taliban. Some of these groups have links with the Afghanistan-Pakistan chapter of the so-called Islamic State which itself is composed largely of a former faction of the Pakistani Taliban.
Pakistani officials have been accusing Afghanistan of not eliminating the sanctuaries of anti-Pakistan militants on its soil.
It has also been blaming India for using Afghan soil to foment trouble in Pakistan. But many here believe that militancy refuses to die down because Pakistan continues to tolerate selective militant structures as cover for its own covert wars that sustain the economy of its security establishment.